Have you ever been so frustrated after spending all day washing and styling your hair, only to wake up the next morning to find out your curls flattened and lost definition (frizz) ?a *sigh*. Luckily, we've come up with a few things that you can do on the 2nd day to refresh your curls. 
If you wanted to know how to refresh 2nd day Curls, then this post is for you.  Below are 3 simple steps on how you can refresh your 2nd day curls.
Using water 

Curl defining products

Finger coiling
1. Spraying water:
Applying water to your hair the next day is great idea in order to refresh your curls. In order to get your curls back to their styled shape, use water to encourage your curls to re-form – especially if they have been flattened out from the night before.
Using a spray bottle – spray water on parts of your hair which need the most attention. Firstly, spray warm water on the crown of your head and spray lightly on the curls sitting at the top of your head. Then tilt your head forward, gather your hair in front of your face and spray the back of your head (this is to create more volume). Then tilt your head upside down and spray lightly on the ends of your hair and close to the middle of the hair – separate if needed.
Once your hair is damp, you're ready for the next step !!
2. Curl Defining Products: 
The obvious second step to solving 2nd day frizz and deshaping is to use a curl defining product or refresher. These specific products below are tailored towards your need to define and reduce frizz on the second day. Some prefer refreshers whilst some prefer curl defining products. Both work great so it's entirely up to you as to what you refresh your curls with. Below are some refreshers & curl defining products.
Shea Moisture Hold & Shine moisture mist. Click here to try it out !!!
Mielle Pomegranate and Honey Curl Defining Spray. Click here to try it out for yourself !!
Bumble and Bumble Curl Defining Creme. Click here to try it out for yourself!!!
3. Finger Coiling: 
Finger-Coiling is a great way to define your curls; especially if they've lost shape from sleeping on it overnight. You should always finger coil your hair on the 2nd day to bring your curls back to life.
But how do I finger coil my hair?
Get a few pieces of wet hair. Wrap the part closest to your roots around your first finger and move down to the ends of the piece of hair in a coil shape direction. This encourages the curl to re-form and defines it. This step is necessary in order to achieve maximum definition and shape. First start with the parts of your hair with the lacking definition and moisture then it's entirely up to you whether you want to do the rest of your hair. 🙂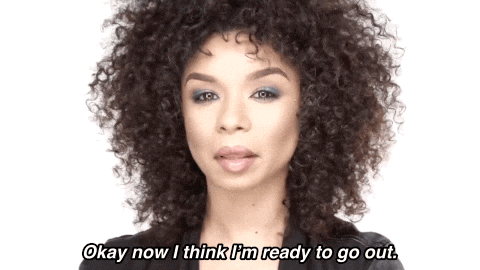 I urge you to try out these 3 simple steps to refresh your 2nd day curls. All the products listed above are great to use for refreshing your curls. You should purchase them as they can totally transform your curly hair routine and the health of your curls.